In the early 1960s, a major change occurred in the history of fishing boat development - hulls began to be made through fiberglass instead of wood.
Fiberglass is made of synthetic resin as the base and glass fiber as the reinforcing material. Its good physical properties can ensure that the hull gets a longer service life and the enterprise achieves higher economic benefits.

With the increasing popularity of FRP in ship making, the upgrade of material technology and cost control become the key to enhance the competitiveness of small and medium-sized ship enterprises, which is also the key point for Hualong to upgrade the solution for ship enterprise customers - to get better quality at a more reasonable cost.

Continuous technological innovation and development
Huarong resin from 2014 officially put into production, after 7 years of rapid development, to achieve an annual output of 360,000 tons, ranked in the forefront of southwest China, and in the construction of profiles, industrial anti-corrosion, electronic appliances and other industries have won the unanimous approval of customers.
To be able to develop successful applications in various industries in a short period of time, in addition to the pursuit of the ultimate quality of Hualong, but also depends on the importance of research and development technology innovation and adhere to the concept of green environmental protection, to help enterprises to be more comfortable with the changing needs of the market, the upgrading of national environmental protection policies. Long-term accumulation of these advantages also ensures that Hualong can quickly meet the certification standards required by the marine sector.
Successfully obtained CCS certification
The FRP materials used for ships are subject to certain certification standards before they can be put into actual use, including the R&D technology and quality control requirements for the companies providing the materials.
In order to serve Chinese shipbuilding enterprises more specifically, Hualong has successfully obtained the CCS factory certificate (CCS certification) by upgrading the existing models and re-optimizing the production and quality control management process in strict accordance with the certification standards of the China Classification Society (CCS).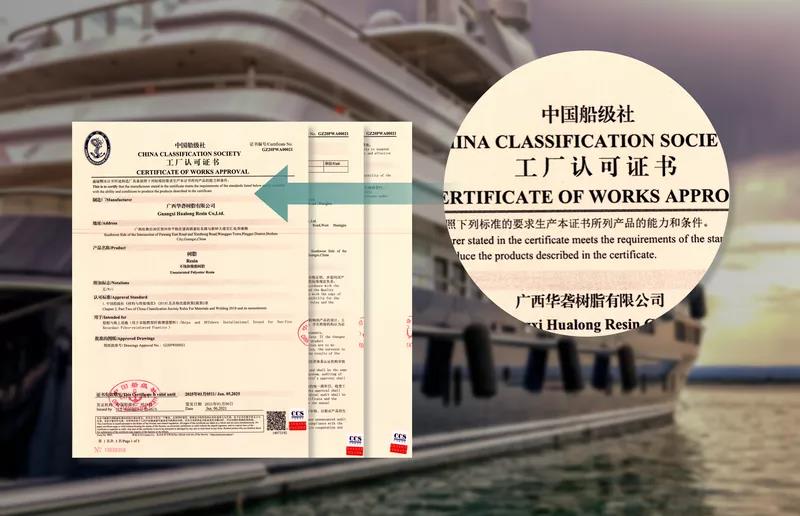 In the actual application, the production process and cost control requirements of ship enterprises are different. In this regard, Hualong will successively launch more accurate and rich product solutions, the current first phase through the certification is HL-8200 and HL-196 two models, the specific process and performance are as follows.
Successfully passed the certification of China Classification Society, is the first step of Hualong to create product application solutions for customers in the marine field. With the construction of a new R & D building at a cost of 20 million yuan to be opened, it also shows that Hualong attaches importance to the determination of R & D innovation, and will continue to optimize the performance of marine FRP materials!